I was lucky enough to attend The ABC Show and the RDIA Conference this past week.  The ABC Show is an expo for those in the children products industry.  Manufacturers and distributors have booths and retail buyers get to see all the neat new stuff coming out!  I can tell you I spent way too much money.  The Real Diaper Industry Association is a trade association for those in the cloth diaper industry.  It was very educational and great to see old friends and meet new ones.
Here is the shocker!  I left my boys and husband home alone for 6 days and was anticipating a disaster of a house.  I was certain it would be a mess.  Well, it seems my husband is in the running for hubby of the year.  The house was spotless!  Clean kitchen and dishes, toys put away and the laundry was washed AND put away!
They also hung a sweet sign to welcome me back home.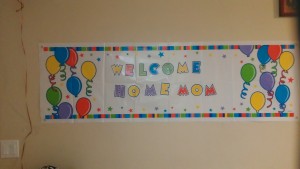 After I got home I collapsed into bed with arms and legs all over me.  There was no way Peanut and Bug were going to sleep in their own beds last night!