I originally started this blog because I have a small business and all the experts tell you that you need a blog to effectively market your business. It is a must. So is Facebook, Twitter, Pinterest, Instagram and on and on and on. The problem is a small business only has so many resources to do all these things. Some simply don't get done.
This blog is call Eco Fabulous Family and I have one of those. We are very eco-friendly and fabulous, of course! So it will now be about MY eco fabulous family and maybe cloth diapers once in awhile!
I don't expect this blog to have many followers or make money but it will be a nice way for family and friends to keep updated on our lives here! Especially since our newest addition, Froggie, has lots of extras that came with him. An extra chromosome, extra doctor appointments, extra diapers and extra smiles!
When I was pregnant with Froggie many of our family and friends reacted negatively. He would be disabled. He would ruin our lives. He would never potty train. He would be sick all the time. He would never walk.
Baby showers never happened for one reason or another and no flowers or cards arrived. It was clear that many people in our lives did not know how to react. When Peanut and Bug were born we were lavished with congratulations and good wishes. When Froggie was born we could hear the crickets. There were a couple of family members brave enough to say congratulations and we appreciate that, more than you will ever know. For those that were nervous or scared to say congrats, I get it. I really do. It is hard to know what to say. I always said I wanted a healthy baby and then I got Froggie. This is not about blame. This is about helping those in our lives accept and love Froggie, Peanut and Bug as much as their Dad and I do.
Froggie is the best thing that could have happened to us. He is a voracious nurser, a cuddler, a lovebug (or frog?) and is smashing stereotypes every single day. I am truly honored to be his Mama and more proud of him than words can say.
So, family and friends, if an extra chromosome freaked you out (or not) please check back here once in awhile. I will make sure to share the good and the bad of life with three special needs kids. We have lots of extras to share!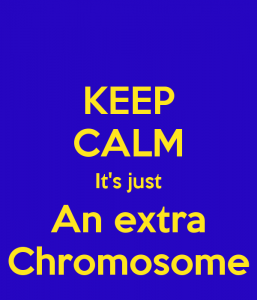 10 Responses to "New Baby, New Direction"
Leave a Reply