My Diagnosis Story – Down syndrome
My Diagnosis Story – Down syndrome
Someone recently asked me to tell our diagnosis story.  I thought this was interesting.  I had heard of birth stories but I had never heard of a diagnosis story.  Even when Bug was diagnosed with autism no one asked for the story.
My story started long before we were officially told.
When Chris and I started our journey to create a family we discussed what would happen if we found out we were pregnant with a child with Down syndrome (Ds).  Yes, we actually had that conversation 10 years before Froggie was born.  We had it several times.  We always said that if we were to find out we were going to have a child with Ds we would have the baby.  We would figure it out.  We would deal with it.  Little did we know we would be blessed with Patrick.
I got pregnant with Patrick on April 30th, 2012.  I really am that neurotic that I can tell you the date each of my children were conceived.  Yes, I am a bit crazy!
By mid-June I was having dreams of a little boy with Ds.  I know you all will think I am crazy, except for the people who I told.    By July I was convinced I was having a baby with Down syndrome. I called several friends and told them the baby had Ds, they thought I was being paranoid.  I emailed and called a few Moms I knew who had children with Ds and told them I was having a baby with Ds.  They thought I was a bit strange (and they were right) since I did not have any diagnostic tests done yet.  At the beginning of August we received blood work showing we had a 1 in 6 chance of having a baby with Ds.  I was scared, no terrified.  The doctor offered an amino to confirm.  After much discussion we decided to have the amino.  My doctor has done several aminos a day for years and the risk of miscarriage was low with him.  I am a Type A and needed to know so I could plan and prepare.  Besides, the state of California was going to pay for it!  Wow!

Um, I was a bit naïve.  I did not realize why they pay for it.  I even asked my doctor later on in my pregnancy and he said to follow the money. He was right.  What is cheaper for the state?
The amino was performed on Aug 15, 2012 and the results came in on Aug. 27, 2012.  It was about 10:00 am and I was home with Chris.  Bug and Peanut were at school.  The phone rang and it was my doctors nurse.  She asked where I was and I told her at home and she said "I'm sorry, the baby does have Down syndrome".  I told her thank you and hung up.  I cried, hard.  Chris held me and we grieved. It was horrible. Since I had already been researching I knew there could be heart problems.  I called her back and asked if the baby's heart was ok.  She said as far as she knew it was.  That afternoon I took Bug out of school early to give him the news.  I thought he would understand to some degree and wanted to tell him separate from Peanut.  Peanut was only 5 and I was sure would not understand.  Bug didn't really get it.  Later that day I told Peanut.  He said, "that's ok, my friend Maddy has Ds".  Then he said, "it is hard to understand her, will I understand my brother?".
Then things got really interesting.  Our next appointment we had to see the genetic counselor otherwise the state would not pay the bill for the amino.  I was still very naïve about the state's motives.  She then presented my options.  I quickly told her we would not have an abortion or place the baby up for adoption.  She continued to talk about abortions and when the cut off date is to have one.  I again told her I did not want to hear it. Chris and I had discussed this and were comfortable with our decision.  After a couple minutes of this I told her F*&% off and walked out.  Chris followed me. I have a knack for putting him in uncomfortable situations.  Later in the pregnancy I complained to my doctor about the genetic counselor and he told me that she complained about me too.  She told him she "was unable to work with that patient".
I was terrified.  I knew nothing about "Downs" (politically incorrect terminology in the US).  I was fortunate that Peanut goes to an inclusion school and I was quickly and lovingly welcomed into the best community I never knew I wanted to be a part of.  These Moms and Dads hugged me, welcomed me, gave me information, pointed me in the right direction and tried to calm my nerves.
I don't know what I would have done without Nancy, Christine, Michelle, Jennifer and several others.  After the birth even more Moms were added to my circle.  Today, 6 months after Patrick's birth I am blessed with a circle of Moms who get it.  Who will be there for me when I need them.  I need to learn to "use" them more.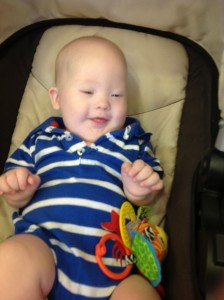 Getting a prenatal diagnosis is so scary. I read everything I could.  I called people, emailed people and prayed.  For some reason it was very important to me to tell our family and friends.  I wanted everyone to know so there was no awkwardness after the baby was born.
One friend, with a little girl with Ds, told me to relax.  She said at the end of the day you are having a BABY.  This baby will be just like your other babies.  He will eat, sleep and poop and that I knew what to do with a baby.  That changed things for me.  That one simple sentence (or two?) gave me something to hang onto.  It really made a difference.
Froggie is the most amazing, sweet, cuddly and special child.  I truly am blessed to be his mother.  He breaks stereotypes everyday and makes me proud.  I honestly would be thrilled to have another with Down syndrome.  I am not just saying that.  This is an amazing journey and our lives are better for it.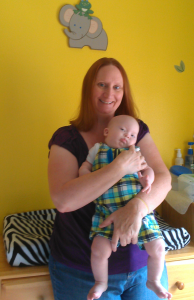 Not the best picture but there are so few of me with him…this is all I could find!
Tags: Down syndrome, Prenatal testing
7 Responses to "My Diagnosis Story – Down syndrome"
Leave a Reply